ICONOMI is a copy trading platform for Crypto assets. It enables you to buy and sell the crypto assets you like. In addition, trading crypto assets, Iconomi gives you access to qualified* strategies on its platform. You can evaluate their performance for different time intervals (24hr, weekly, monthly, 3 Months, 6 Months & 1 Year).
The main functionality that lured my initial attention to Iconomi is its copy trading functionality. Once you transfer funds to your ICONOMI account you can copy any strategy available on the platform. There are some fees (copy fee, performance fee, exit fee, etc.). These fees are vital for both platform and strategy owners to perform.
Copy Trading is a social aspect of active trading. Those who want to actively trade but yet fail to do it themselves can prefer copy trading. They can copy a trading strategy directly from the platform and their funds will mimic that strategy performance in real-time.
You can also build your own strategy on crypto assets. Let's assume that you've done your research and decided on an ideal portfolio such as per se "40% ETH, 15% BNB, 25% AVAX 15%SOL, 10% USDT$. You set your funds accordingly. Due to market conditions and your trade goals you can rearrange percentages, add, remove, replace new assets.
7 important things you need to know about Iconomi
– Iconomi is a London based global copy crypto trading provider established in 2016 Slovenia. There are currently 3000 strategies and they're serving in 182 countries (US and Canada excluded)
– As of October 20th ICONOMI is now FCA registered crypto asset firm in the UK. See link or details.
– Opening accounts and storing digital assets on Iconomi is free of charge.
– Iconomi doesn't apply any fees or commissions for crypto trading. They do, however, charge a spread. For Eth and BTC transactions 0.75% spread is charged. For other Crypto assets spread is 1.5%. Please check the platform website for currently applied spreads.
– Identity verification is important on Iconomi: To add funds to your account and copy strategies you'll need Tier 1 verification. ( disclosure of country of residence, identification and proof of address)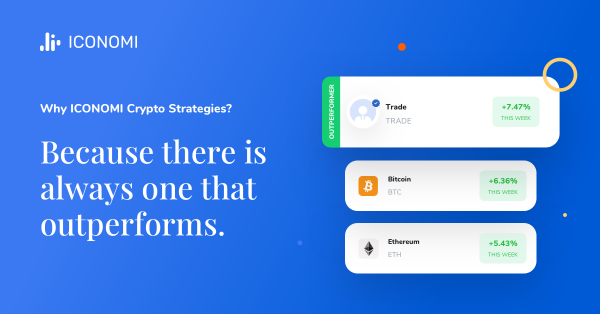 – Two-factor authentication (2FA) is a must on Iconomi. You need to activate 2FA to be able to withdraw funds from the platform. You can either choose google authenticator or Authy app to log in and verify fund withdrawals.
– Transferring funds from Iconomi to other wallets can be tricky especially if bank transfers are not supported in your country. You'll then need to use crypto transfers to add funds to and remove funds from. The platform supports BTC, ETH, USDC, USDT cryptocurrency transfers. Bitcoin (for BTC transfers) and Etherum (ERC 20) networks for other currencies. So you'll need to double-check on your transaction fees before you send them.
Opinions on Iconomi
Copy trading is an amazing functionality. It has been almost a year and I've been a conservative investor picky with strategies and my portfolio performed 133% despite me. It's registered and safe provides excellent access to investors interested in crypto assets no matter what their experience is. Yet it's a volatile market and when the bear market knocks on your door and it'll knock you can not estimate your losses or gains. Remember even if it's you can copy strategies it's still your investment decisions and you're solely responsible for them.
CLICK HERE TO OPEN AN ACCOUNT ON ICONOMI